ReCut Project
(Performance)
2006 / Draw a Line and Follow It
Los Angeles Contemporary Exhibitions (LACE), Los Angeles, CA, USA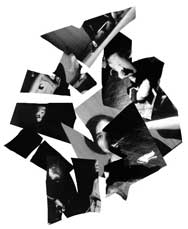 The ReCut Project is based on Ma's research of Fluxus documents and objects collected in the Jean Brown papers at the Getty Research Institute. For the exhibition, he invited a group of artists, performers, and writers, including Justin Chin, Toxic Titties, Lun*na Menoh, Osuna, Amitis Motevalli, Jocelyn Matsuo, and Catherine Lord to present interpretations of Yoko Ono's Cut Piece (1964) Read more
------
Bag Piece
(Installation)
2006 / Draw a Line and Follow It
Los Angeles Contemporary Exhibitions (LACE), Los Angeles, CA, USA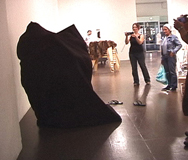 Multiples of Yoko Ono's Bag Piece (1966) were reproduced and installed throughout the exhibition for viewers to use and interact with.

A large black sack is left lying on a platform and with the invitation to get inside it (either alone or with someone), take off one's clothes and sit watching the gallery crowds. You can see them, but all they can see is a large, black anonymous shape. As Miss Ono suggests, this could be the perfect solution for our paranoid society, if we hung one on every lamppost and crawl into it whenever we felt things were getting to be a little too much. (From Game Mistress by Mario Amaya, The Financial Times, Saturday, November 12, 1966
------
…Finally
(Karaoke video)
2002 / 4 Minutes
NTSC / Stereo / Color / B&W / Digital video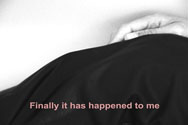 Created for the closing night of the 8th LA Freewaves media arts festival, held at a karaoke bar in the Korean Town of Los Angeles, …Finally is a one-take interpretation of the '90s gay anthem "Finally" by Cece Peniston that posits a durational and melancholic reading of its lyrics.
------
THIS IS NOT A FOREIGN FILM
(Site-specific installation + performance)
2002 / 18 Hours
Platinum Oasis
Outfest, Los Angeles, CA, U.S.A.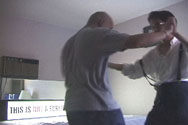 THIS IS NOT A FOREIGN FILM is a performance and installation that continuously re-enacts the last scene in Pasolini's film Salo. It was created specifically for Platinum Oasis, an art and performance event curated by Ron Athey and Vaginal Davis, which took place at the notorious Coral Sands Motel in Hollywood. Read more


------
Untitled: Video Self Portraits
(Collaborative installation)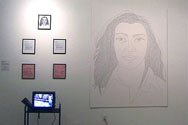 2002 / Democracy When!? Activist Strategizing in Los Angeles
Los Angeles Contemporary Exhibitions (LACE), Los Angeles, CA, U.S.A.

A collaboration between my Contemporary Media Practices class at Pitzer College, Kulture Klub LA, & artist Amitis Motevalli, created for the exhibition Democracy When!?
Activist Strategizing in Los Angeles, curated by Tone O. Nielsen. Read more
------
Very Best Duck
(Video projection)
1999 / SONOPTICON 99, Los Angeles, CA, U.S.A.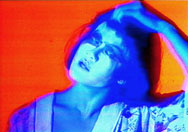 A looped video projection combining a sound sample from the James Bond 007 film You Only Live Twice with colour-saturated video images of an orientalist drag performance. This piece was created for SONOPTICON 99, a DJ/sound and light event organized by the Foundation for Art Resources, Inc. (FAR)
------

Myth Fragments
(Slide projection and web site)
1998-1999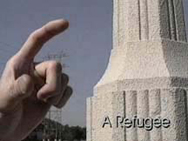 Myth Fragments presented still images from Myth(s) of Creation in two different contexts: one, at Projections: intermission images, a slide show of images projection in between films at Laemmle Grand FourPlex Theater in downtown Los Angeles. This exhibition was curated by Karen Atkinson for Sidestreets Projects. And two, as a part of the on-line exhibition Home, curated by Allan de Souza for LA Culture Net. This version also incorporated text from the script of Myth(s) of Creation.
------
Between The Lines; Who Speaks?
(Collaborative installation)
1994-1996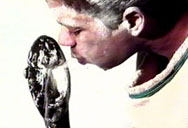 A multi-channel collaborative video installation dealing with the issues of identity, voice, and community. Based on Edward Albee's keynote address for the 1991 OutWrite Conference, this project features collaborations with Luis Alfaro, Justin Chin, G. Colette Jackson, Mary Parker, Jared Sanford, Rachel Schreiber, and Robert Vasquez-Pacheco. Read more.