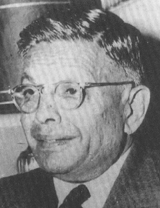 Manilal Gandhi: a Hero in the New African Movement
by
Brandon Smith
Manilal Gandhi, the second son of Mahatma Gandhi, embodies the spirit of the New African Movement. Throughout his life, he struggled against segregation and worked toward the New African ideals of greater equality and harmony among races. Manilal Gandhi was an activist and the longest-serving editor of an influential newspaper, the Indian Opinion 1 . Fearlessly, he protested apartheid laws, even at the cost of prison sentences. Manilal Gandhi, for his dedication to modern ideals, deserves recognition in the New African Movement.
Manilal Gandhi was born as the second of four sons of Mahatma and Kasturba Gandhi on October 28, 1892 , in Rajkot , India 2 . As a young boy, Manilal Gandhi, along with his brothers, joined his father in Durban , South Africa in early 1897. There he was home schooled by Mahatma Gandhi, receiving a traditional education in some formal subjects, along with lessons in humility through manual labor. Additionally, he held jobs at the Pheonix printing press, foreshadowing his later career as the manager of the press and editor for the newspaper. As a disciple of his father, Manilal Gandhi joined the satyagraha struggle, at the tender age of 15 2 . From then on, he would serve dozens of prison sentences, in protest of unjust laws and in support of New African ideals: non-discrimination based on race or religion, preservation of the environment, and the elimination of extreme poverty.
In 1917, Mahatma Gandhi entrusted the now fully-grown Manilal Gandhi to uphold his legacy in South Africa , while Mahatma Gandhi brought his satyagraha philosophy elsewhere in the world 1 . He was to help with the production of the influential newspaper, the Indian Opinion. Manilal Gandhi excelled at this, taking over the management of the newspaper within a year, and in 1920, replacing Albert West as editor. He held this position for 36 years, making him the longest serving editor 1 . From this seat of power, Manilal Gandhi worked tirelessly to secure change toward modernity in South Africa .
To understand Manilal Gandhi's passion for New African ideals, one must examine his personal history. Manilal Gandhi was deeply influenced by his father, Mahatma Gandhi. Relatives and historians have gone so far as to say that Manilal Gandhi was "enslaved 3 ," "was totally subservient 4 ", to his father. Uma Dhupelia-Mesthrie, who has studied Manilal Gandhi's relationship with his father extensively, believes that much of this is exaggerated or sensationalized. She notes that, "Gandhi was protective of his sons and tried to mould them so they would avoid mistakes 5 ," and that he was a "compassionate father 6 ."
Some have claimed Manilal Gandhi's deference to his father was based on "stupidity 2 ," but his great success as an editor would point otherwise. In fact, one would be obtuse to not use a man of such incredible wisdom as Mahatma Gandhi for guidance, when Mahatma Gandhi was so readily available and willing to give advice.
Mahatma Gandhi began educating and shaping Manilal Gandhi for leadership at a young age. Mahatma Gandhi had no confidence in the local educational system, so he schooled his children at home 2 . Beyond traditional subjects, Manilal Gandhi was taught "how to do household chores, how to farm, how to operate machines, about human relationships and how to build and preserve them … [and] the dignity of labor, no matter how lowly it may seem." To instill a sense of humility, Manilal Gandhi was frequently assigned to work on the farm and replace toilet buckets 2 . Manilal Gandhi had many shaping experiences at these communal settlements, Phoenix Settlement and Tolstoy Farm, which were established by Mahatma Gandhi to live by satyagraha philosophy 7 . Far from living a privileged existence due to the fame of his father, Manilal Gandhi could relate to the common people of South Africa and better understand their struggle for equality and greater justice.
Manilal Gandhi's mother, Kasturba Gandhi, also assisted in his education 2 . At age 10, having forgotten his glasses, Manilal Gandhi was sent home from Mahatma's office to retrieve them. After the five mile walk home, he was exhausted and almost tearful, dreading having to walk yet another five miles to return to the office. Upon hearing why Manilal Gandhi had returned, Katsurba offered this lesson: "When you begin to forget small things, you learn to forget big things. Then you find justification for forgetting and that is not good. This walk will remind you always that you cannot afford to forget things." 2
Young Manilal Gandhi shouldered great responsibilities on top of his education, preparing him for his place in the New African Movement. When Manilal Gandhi was 12 years old, Mahatma Gandhi was sent to prison for defying unjust laws 2 . Katsurba Gandhi was in poor health, so Manilal Gandhi had to care for his mother and help manage the household as the second eldest son. At age 15, Manilal Gandhi himself first went to jail 2 , marking the start of his enlistment in the frontlines of the New African Movement.
Manilal Gandhi joined his father in India in 1915. However, in 1918, Henry Polak and Albert West informed Mahatma that they were intending to retire from their position as managers of the Indian Opinion . Manilal Gandhi volunteered to return to South Africa to keep the paper alive and to ensure that the voice for New African ideals remained strong. 2 He soon took over management of the paper and, as previously mentioned, became the longest-serving editor. Under his leadership, the newspaper "became more focused on human rights rather than the rights of Indians only 8 ." Not only did Manilal Gandhi maintain the quality of Indian Opinion , but he expanded the newspaper to acknowledge the injustices that blacks suffered, as well 1 . The paper became something greater than it was, even under Mahatma Gandhi.
Manilal Gandhi married Sushula Mashruwala in 1927. Sushila became his partner with the Indian Opinion and took over the finances and Gujarati section of the paper. They had three children, Sita, Arun, and Ela. The children worked in the printing press, much like Manilal Gandhi did as a child 1 . With Manilal Gandhi's guidance, Arun grew to carry on the family tradition of social-political activism 9 .
Manilal Ghandi's place in the New African Movement, and in the movement for human rights in general, is marked by great sacrifices. Cumulatively, he spent nearly 14 years in prison, spread among dozens of sentences for his protests against unjust laws 10 . Upon a visit to India in 1930, he participated in the salt marches, causing him to be sentenced to nine months in prison; he returned to South Africa a hero for his sacrifice 10 . In another instance, he participated in passive resistance against segregation in South Africa , again being sent to jail in 1946.
Manilal Gandhi had certain ties to government. In 1920, he joined the Natal Indian Congress (NIC), and he served as NIC's representative at the South African Indian Congress conferences 10 . In the early 1950's, Manilal held meetings with the President of the African National Congress, Chief Albert Luthuli, to convince him of the philosophy of non-violence. The President saw the value in Manilal Gandhi's philosophy and committed the Congress to accept non-violent social change in South Africa , earning him a Nobel Peace Prize 2 .
Manilal Gandhi was well-respected for his character and commitment to justice. During 1948, Manilal Gandhi toured the world, discussing satyagraha and New African values with numerous individuals, including Albert Einstein. Reverend Donald Harrington of New York was "impressed with his immense spirituality and saintly qualities." 10 Manilal Gandhi "spoke in such a calm, convincing and humble way, that he drew people to him and was accorded special reverence." John Ngubane was impressed by Manilal Gandhi's willingness to admit mistakes and believes that he provided "striking contributions to race harmony" 11 . As Manilal Gandhi's granddaughter Uma Dhupelia-Mesthrie notes, "He knew absolutely no fear when faced with injustice. The jails and police of the South African state held no terror for him; neither did the prospect of death in defense of a just cause." 10
Manilal Ghandi's commitment to New African values is exemplary. While many South African intellectuals were content to sit back in their armchairs and write articles advocating a change toward modernity, Manilal Gandhi involved himself in the New African Movement physically and with great sacrifice. It would be a mistake to overlook his considerable contribution to the New African Movement and for the rights of all humanity.

Works Cited
1) Staff Writer. " Manilal Gandhi." South African History Online. Accessed: November 2005. <http://www.sahistory.org.za/pages/people/gandhi-manilal.htm>
2) Chopra, Rajesh. " Manilal Gandhi." Jai Hind. <http://www.liveindia.com/freedomfighters/26.html>
3) Staff Writer. "Gandhi gave no freedom to his sons." Daily Times . September 22, 2004 <http://www.dailytimes.com.pk/default.asp?page=story_22-9-2004_pg4_16>
4) Staff Writer. "Gandhi's Prisoner?" Mahatma Gandhi Research and Media S ervice. Accessed: November 2005. < http://www.gandhiserve.org/gp.html>
5) Staff Writer. "Gandhi As The 'Enslaver'" Instant Kaapi . September 23, 2004 . <http://www.instantkaapi.com/archives/000708.html>
6) Staff Writer. " Gandhi 'enslaved' his son, says new book." Hot Spot. September 22, 2004 . <http://www.hindustantimes.com/news/7242_1019915,00180007.htm>
7) Staff Writer. "Gandhi's Prisoner." The Official Mahatma Gandhi eArchive and Reference Library. Accessed: November 2005. <http://www.mahatma.org.in/gandhisprisoner.html>
8) Dhupelia-Mesthrie, Uma." The Significance of Indian Opinion." South African History Online. June 4, 2003 <http://www.sahistory.org.za/pages/artsmediaculture/pages/newspapers/indian-opinion.htm>
9) Anonymous. "Manilal Gandhi." Wikipedia. Accessed: November 2005. <http://en.wikipedia.org/wiki/Manilal_Gandhi>
10) Vahed, Goolam. Hnet Online. Accessed: November 2005. <http://www.hnet.msu.edu/reviews/ showrev.cgi?path=143901125071325>
11) Jordan Ngubane, "Manilal Gandhi As I Knew Him", Indian Opinion (Manilal Gandhi Memorial Number), April 1956. <http://www.pitzer.edu/academics/faculty/masilela/nam/newafrre/writers/mangand/mangandQ.htm